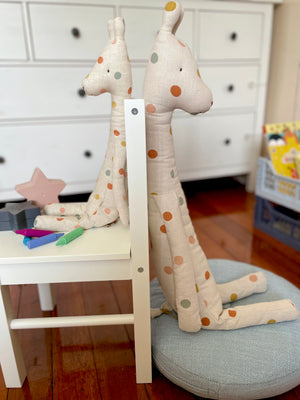 Maileg
Safari Friends | Giraffe
Sale price Price $52.95 Regular price Unit price / per
Our new safari friend, Medium Giraffe, is multi-dotted with a spunky and unique personality and a friendly face. They have a very long giraffe body with long arms to match. Their floppy arms make them so fun to play with and perfect for giving hugs. They have an adorable little tail to match their short legs and are weighted on the bottom so that they can sit next to you or lean against your bed.
Made of linen, they are perfect as bedtime companions for sensitive little noses.
Our Medium Giraffe is smaller than our friend Big Giraffe! Please see the size difference in the picture.
Material: Rattan / Cotton outer fabric and polyester filling (weighted with a synthetic bean bag)
Designed in Denmark
Dimensions: Medium - 47cm tall, Big - 77cm tall
Care instruction: We recommend hand-washing with mild soap or machine washing on a gentle cycle with cold water then air dry. Once your Maileg friend dries, give it a nice massage to get its body back to its original shape and form.